USA & Loveland Pass, Colorado Snow Storm & Blizzard Map Forecast
Below you will see a map of the greater USA depicting areas in blue having a 10% chance of having at least 4 inches of snow fall, areas in green have a 40% chance of having at least 4 inches of snow fall and the areas in red can expect at least a 70% chance of having at least 4 inches of snow or blizzard conditions.
USA & Loveland Pass, Colorado Tornado & Storm - Watches and Warnings
Storm and Tornado Watch:
SPC - No watches are valid as of Sat Mar 28 00:52:01 UTC 2015
---
Fire Weather Watch:
SPC Day 2 Fire Weather Outlook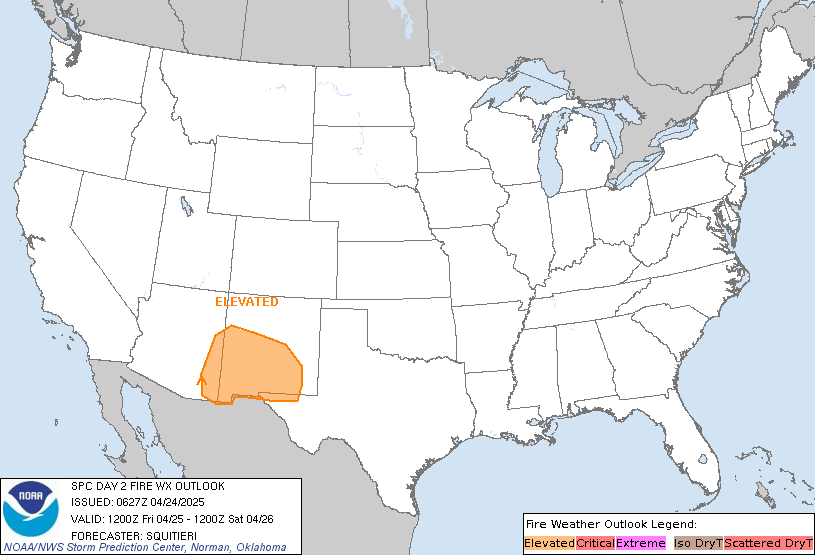 DAY 2 FIRE WEATHER OUTLOOK NWS STORM PREDICTION CENTER NORMAN OK 0220 PM CDT FRI MAR 27 2015 VALID 281200Z - 291200Z ...CRITICAL FIRE WEATHER AREA FOR PORTIONS OF ERN WY...FAR SW NEB PANHANDLE...FAR SE MT... THE ELEVATED AREA HAS BEEN EXTENDED WWD ACROSS PORTIONS OF MT AND WY. ADDED AREAS WILL BE IN PROXIMITY TO STRONG TROPOSPHERIC FLOW CAPABLE OF SUPPORTING SUSTAINED WLY TO WNWLY SFC WINDS OF 25-35 MPH AND HIGHER GUSTS PER THE LATEST MULTI-MODEL CONSENSUS. THE PRESENCE OF MID/HIGH-LEVEL CLOUDS WILL STUNT SFC WARMING TO SOME EXTENT. HOWEVER...STRONG DOWNSLOPE-FLOW-INDUCED WARMING/DRYING AND ENHANCED VERTICAL MIXING SHOULD PROMOTE SUFFICIENT RH REDUCTIONS TO WARRANT ELEVATED DESIGNATION. RH VALUES ARE EXPECTED TO FALL TO AROUND 20-25 PERCENT ACROSS THE ADDED AREAS AS TEMPERATURES CLIMB INTO THE LOWER/MIDDLE 60S /AT THE RELATIVELY LOWER ELEVATIONS/. THIS IS SUPPORTED BY THE LATEST GFS-MOS GUIDANCE THAT REFLECTS WARMER/DRIER SFC CONDITIONS THAN NAM/GFS FORECAST SOUNDINGS /WHICH OFTEN EXHIBIT COOL AND MOIST BIASES AT THE SFC IN THESE REGIMES/. DRY FINE FUELS WILL SUPPORT THE POTENTIAL FOR FIRE GROWTH ACROSS THE AREAS ADDED TO ELEVATED DESIGNATION. THE LACK OF EVEN STRONGER SFC HEATING OWING TO THE PRESENCE OF CLOUDS SHOULD PREVENT RH VALUES FROM BECOMING CRITICALLY LOW ACROSS AREAS ADDED TO ELEVATED DESIGNATION. OTHERWISE...THE REMAINDER OF THE FORECAST IS ON TRACK BASED ON THE LATEST AVAILABLE MODEL GUIDANCE...AND NO ADDITIONAL CHANGES HAVE BEEN MADE. ..COHEN.. 03/27/2015 .PREV DISCUSSION... /ISSUED 0313 AM CDT FRI MAR 27 2015/ ...SYNOPSIS... OVERALL UPPER PATTERN IS EXPECTED TO LOSE AMPLITUDE THROUGHOUT THE PERIOD AS THE ERN CONUS TROUGH GRADUALLY MOVES EWD /EVENTUALLY MOVING OFF THE ERN SEABOARD VERY LATE IN THE PERIOD/ AND THE UPPER RIDGE IN ITS WAKE OVER THE PLAINS DAMPENS IN RESPONSE TO A SHORTWAVE TROUGH MOVING THROUGH THE NRN ROCKIES AND INTO THE CNTRL PLAINS. GENERALLY WEAK...NEARLY-ZONAL FLOW IS EXPECTED W OF THE ROCKIES. SURFACE PATTERN ACROSS THE ERN CONUS WILL BE DOMINATED BY A LARGE RIDGE MOVING FROM THE GREAT LAKES SEWD INTO THE CNTRL APPALACHIANS. A SURFACE LOW WILL MOVE EWD ACROSS THE CANADIAN PRAIRIE PROVINCES AS AN ASSOCIATED COLD FRONT MOVES THROUGH THE PLAINS AFTER 00Z/SUN. ...NRN/CNTRL HIGH PLAINS... SURFACE PRESSURE GRADIENT ACROSS THE AREA IS EXPECTED TO TIGHTEN THROUGHOUT THE DAY AS THE COMBINATION OF THE APPROACHING COLD FRONT AND ANTECEDENT LEE TROUGHING HELPS LOWER PRESSURES WHILE THE SURFACE HIGH REMAINS OVER THE WRN OH VALLEY. THIS ENHANCED SURFACE PRESSURE GRADIENT COUPLED WITH INCREASING WLY FLOW ALOFT AHEAD OF THE APPROACHING SHORTWAVE TROUGH WILL HELP SUPPORT SUSTAINED WLY WINDS AROUND 20-25 MPH WITH GUSTS OVER 35 MPH POSSIBLE. WIND SPEEDS MAY BE A BIT LOWER FARTHER S INTO NE CO WHERE THE GRADIENT IS MORE RELAXED. CRITICAL FIRE WEATHER CONDITIONS APPEAR LIKELY OVER MOST OF ERN WY...FAR SW NEB PANHANDLE...AND SE MT WHERE THE GUSTY WINDS WILL OVERLAP RH VALUES BELOW 20 PERCENT. ELEVATED FIRE WEATHER CONDITIONS ARE EXPECTED ELSEWHERE ACROSS THE REGION WITH WINDS SPEEDS BELOW 20 MPH AS THE LIMITING FACTOR ACROSS WRN SD...MOST OF THE NEB PANHANDLE/WRN NEB...AND NE CO. MIN RH VALUES ABOVE 20 PERCENT IS THE LIMITING FACTOR FOR E-CNTRL/NE MT. ...CNTRL FL... POST-FRONTAL CONDITIONS WILL LIKELY RESULT IN NWLY WINDS AROUND 15 MPH AMIDST MIN RH VALUES BELOW 35 PERCENT. THESE METEOROLOGICAL CONDITIONS USUALLY MERIT AT LEAST AN ELEVATED FIRE WEATHER THREAT. HOWEVER...UNRECEPTIVE FUELS WILL TEMPER ANY POTENTIAL FIRE WEATHER RISK...PRECLUDING THE NEED FOR AN ELEVATED AREA. ...PLEASE SEE WWW.SPC.NOAA.GOV/FIRE FOR GRAPHIC PRODUCT... Read More About The SPC Day 2 Fire Weather Outlook
Please visit NOAA to see all fire watches and warnings.
---
Loveland Pass & Colorado Flood Watches, Warnings & Alerts.
Please visit the USGS for a detailed Loveland Pass, CO flood forecast.
World Earthquake Watch
Get detailed information on earthquakes as they occur. Here are the last 6 significant earthquakes:
4.4 27km ENE of Greenfield, California EARTHQUAKE, January 20, 2015 05:21:36
2.6 19km NNE of Harper, Kansas EARTHQUAKE, January 19, 2015 22:10:49
2.7 23km S of Honoka'a, Hawaii EARTHQUAKE, January 19, 2015 16:08:28
3.1 20km E of Cherokee, Oklahoma EARTHQUAKE, January 19, 2015 18:25:47
2.5 13km N of Perry, Oklahoma EARTHQUAKE, January 19, 2015 13:10:11
1.7 8km S of Honoka'a, Hawaii EARTHQUAKE, January 19, 2015 08:11:22

For more detailed information on earthquakes and related data please visit our Friendly Forecast Earthquake Watch.